Running an import/export business can be a costly endeavor, but there are many ways to save money and increase your profits. This guide provides budget-friendly tips that you can use to get the most out of your international business endeavors. From finding the right suppliers and hosting virtual events to cutting back on shipping costs, these money-saving strategies will help you succeed in the import/export industry.
Research Potential Partners & Suppliers.
Before you partner with a supplier or a partner, it's important to do your research. With the internet, researching potential business partners is easier than ever. Take advantage of various resources like online reviews, forum comments, and social media posts to learn more about their reputation and the services they offer. Make sure they are able to deliver on their promises and that they are reliable enough to kick off your partnership on the right foot.
Take Advantage of Bartering Opportunities.
In an international import/export business, bartering is often the most cost-effective way to get what you need without taking a huge hit to your budget. If a company doesn't have the resources for cash payments, you can use the product or services that you're trading in exchange. Look for companies that are willing to accept bartering opportunities as it can help save time, money, and effort. By doing this, you don't have to worry about paying additional taxes or fees related to cash transactions.
Utilize Bulk Purchasing Whenever Possible.
A great way to save money in an international import/export business is to take advantage of bulk purchasing. You can usually get a discounted price if you purchase items in larger amounts, meaning you can get more for your money. Look for companies that offer discounts on quantities that are beneficial for your needs. Additionally, some merchants may provide free shipping if the total order amount exceeds a certain limit. Keep this in mind when making purchases and use it to your advantage.
Use Local Labor and Services to Offset Costs.
Local labor and services can help you to save money in an international import/export business. Look for talents within the community such as freelancers or small businesses that are well-priced and reliable when it comes to delivering what is needed. This will help you to reduce costs associated with overseas production, shipping, and management. Furthermore, using local resources gives you greater control of the quality of the goods produced since they are closer to your end destination.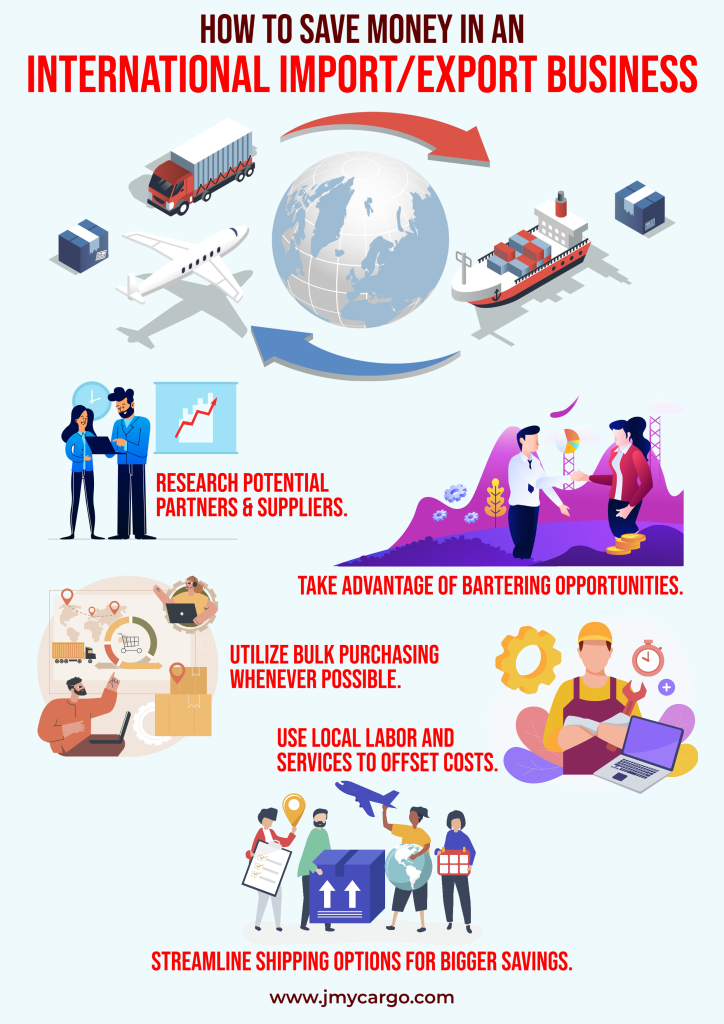 Streamline Shipping Options for Bigger Savings.
Streamline your shipping options to save money in the long run. Investing in economies of scale by consolidating shipments into larger containers can reduce costs by freeing up space for more products or services. Lessening the number of stops will also help you save on freight fees and customs charges to better maintain a consistent budget. Utilizing tracking tools, staff training, and finding ways to automate tasks wherever possible will streamline your operational processes and help you save money too.