Sending packages abroad can be a daunting task, as it requires that you understand local customs regulations in the receiving country. To make sure you avoid unexpected fees or delays, our guide explains what you need to know before shipping packages internationally.
Research Your Destination's Customs Regulations
Before you start the shipping process, it is essential to research your destination's customs regulations. Find out what kind of items are prohibited or restricted, as well as the packaging and labeling requirements specific to the country you are shipping to. Knowing this information in advance can help ensure that your shipment clears customs without any hiccups.
Choose the Correct Shipping Carrier and Service
When shipping internationally, it is important to select both the right carrier and a service level that will provide sufficient transit times to reach the destination country without excessive delays due to customs clearance. For example, if your shipment is time-sensitive, you may want to choose an express service with real-time tracking so that you can follow your package's progression every step of the way.
Check If Paperwork or a GSP is Necessary
Before shipping any goods abroad it is important to check if paperwork or a GSP (Global Service Provider) is necessary. Depending on the type of product you are shipping, the destination country may require additional information such as an export license. Make sure to search these regulations and make sure you have all the required documents before sending your package. It's also important to be aware that some countries may have restrictions on certain types of shipments that cannot be sent, so you must make sure to check all applicable customs rules before shipping anything.
Calculate an Accurate Estimate of Customs Fees and Other Costs
It is important to calculate an accurate estimate of customs fees and other costs in order to determine if a product will be profitable for you. Different countries have different import and export fees, which you must take into consideration when factoring in the shipping costs. Using reliable websites such as DutyCalculator.com can help to give you an idea of the applicable charges for your imports and exports. Additionally, make sure to ask yourself questions such as are there applicable VAT taxes? Will I need additional paperwork? Are there licensing taxes? Once these questions are answered, you can then make a more accurate calculation of all estimated costs before shipping abroad.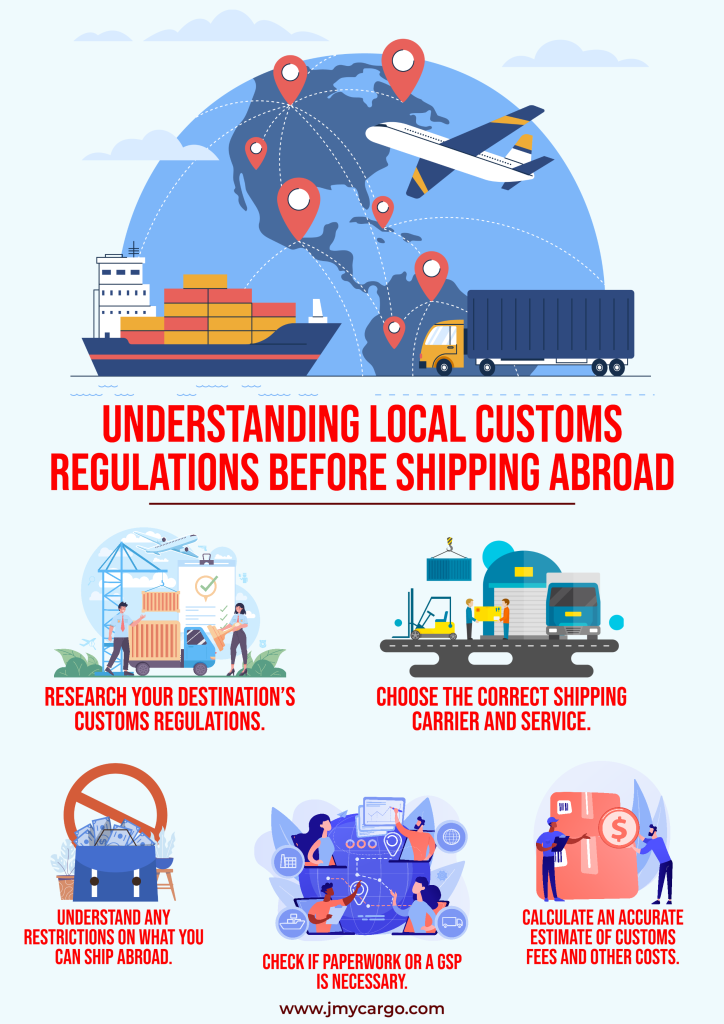 Understand Any Restrictions on What You Can Ship Abroad
Before shipping goods overseas, make sure to check if there are any specific rules and regulations which may prevent you from shipping certain items. Some of these restrictions can be based on country-specific licenses, health & safety regulations, or customs controls. It is important to familiarize yourself with the local customs laws in order to determine any restrictions that may apply to your shipment so that you can make a more informed decision about what items you want to ship abroad.