Protecting your goods while they're in transit is essential when it comes to ocean freight shipments. With the right quality packaging solutions, you can be sure that your cargo will withstand rough seas and arrive safely at its destination. Learn how to maximize protection with the best packaging materials available for ocean freight shipments.
Design effective, protective packaging
When it comes to ocean freight shipments, packaging design is key for ensuring the safe arrival of your cargo. Designing effective, protective packaging starts with understanding how to select the best materials for your shipment and using the rightvoid fill to provide extra protection against shock or rough seas. Additionally, use heavy-duty carton stock that can withstand long-distance shipping and clearly label any hazardous contents as needed.
Choose quality materials and cushioning
Quality materials are integral for protecting your cargo during transit. Choose materials that provide strong cushioning and sturdiness for optimal handling. This includes cushioned foam, bubble wrap, polystyrene packing peanuts, corrugated cardboard boxes, air pillows and other types of packaging for fragile items. To further secure the contents of your package, use reinforcing tape to keep flaps closed and fill any extra space with void fill or newspaper if necessary.
Partner with experienced ocean freight companies
Working with a reliable ocean freight carrier can make all the difference in ensuring your cargo's safe arrival. Experienced shipping companies that understand the industry regulations and operate established freight networks will be able to offer you more strict tracking and communication options, helping you ensure your cargo is secure during its journey. A good ocean freight carrier will also provide specific guidance on packaging materials and requirements that vary by product type or destination, ensuring optimal safety and efficiency.
Select packing methods for temperature control needs
Temperature-sensitive cargo needs to be packed in airtight, temperature-controlled containers with insulation. To increase the container's effectiveness, you may choose to use foam or other cushioning packaging material to prevent the cargo from shifting and disturbing the insulation. Other options could include cryogenic containers or gel packs, which can help maintain low temperatures and protect the contents during transport. If necessary, your ocean freight carrier can provide further advice on choosing appropriate packing solutions depending on your shipment.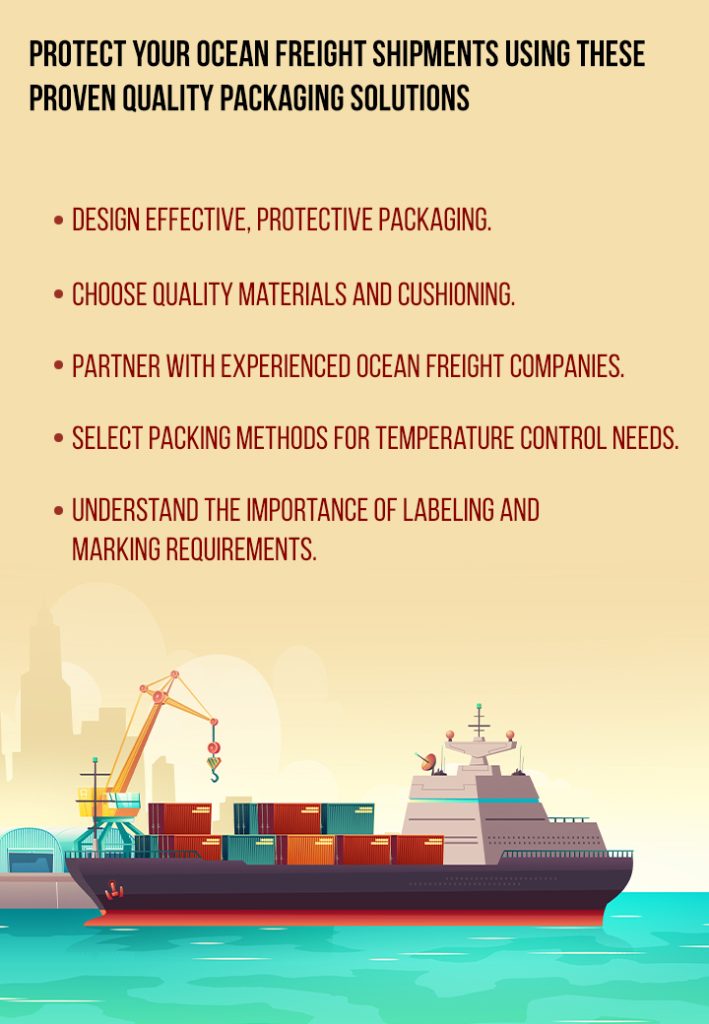 Understand the importance of labeling and marking requirements
Labeling and marking requirements vary from one country to another and must be compliant with national regulations for both origin and destination countries. Therefore, it is important to understand and follow the necessary labeling and marking rules for your shipment. This includes information about hazardous materials, UN numbers, branding or logos, contact details, product descriptions, and net weights. Taking steps to adhere to this labeling helps assure that all documents including manifests are accurate prior to shipping.