Are you prepared for shipping season's busiest times? You must be well prepared for escalating demands on your delivery services if you want to fully capitalize on the increased sales potential during the Christmas retail season, which accounts for a significant chunk of annual sales for most businesses. A plan must be in place at all times. To succeed throughout the busiest shipping season, read the blog further.
What's the peak season of the Shipping Industry?
When compared to other times of the year, the carriers are coping with substantially larger shipping volumes. For instance, the period before the holiday season. Typically, the busiest shipping period lasts from September through December.
Secrets to getting success during peak season
Our shipping experts' best advice for navigating shipping during high season is to PLAN AHEAD. It makes a huge impact if you can schedule your shipping a few days earlier than usual. Shipping a few days in advance will help you prevent tension and worry because delays are to be expected during the peak season.
What if you are unable to ship beforehand? Here are some more pointers to make shipping as simple as possible: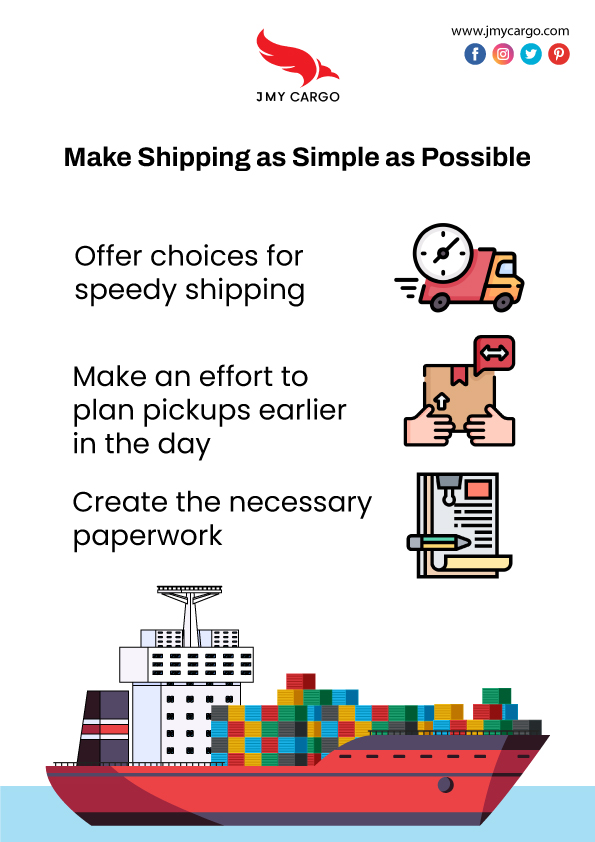 Offer choices for speedy shipping– Make sure to have an Expedited or Express Service available so that a customer can choose next-day delivery if they are placing an urgent purchase. A cheaper but slower service, like a Ground Service, is not an option. JMY cargo shipping services make it simple to view the many shipping service options and their associated costs, receive tracking updates, and more!
Make an effort to plan pickups earlier in the day- Make an effort to plan pickups earlier in the day. The couriers may end their pickup periods earlier than scheduled if they are overcrowded or facing terrible weather. We advise setting up the pickup of your shipment as early as possible in the day. Additionally, make an effort to give a reasonable pickup window; rather than just one, we advise giving a window of several hours. Remember that pickups typically occur in the late afternoon, so allowing only morning pickups is unrealistic.
Create the necessary paperwork– Make sure the appropriate documentation supports your packages. When exporting to another country, it's important to set up a brokerage to avoid delays at the border, make sure your suppliers have the necessary certification to avoid paying duties and submit a business invoice.
Keeping the best for the last
There is a lot of daily shipping and unloading in the freight forwarding industry. Cargoes are continuously crushed, moved, and jolted by outside changes while being exposed to wetness and changing temperatures throughout the shipping process. If you're seeking knowledgeable freight forwarders, JMY Cargo can be your one-stop freight forwarding location. The international freight shipping company guarantees that each package will arrive at its destination without experiencing any first issues. The fact that you pay reasonable charges for the shipping services you use is the best element. Everything is handled, including packaging and insurance.
Have you spoken with an experienced group of foreign shippers before? If not, speak with JMY Cargo immediately!