Worried about your overseas shipping? Scared what if your goods go through damage? Being on the other side of the shipping process it is obvious to be worried about your stuff but start your worry-free shipping process with JMY Cargo freight shipping. Let's dive in and know more about the benefits of investing in JMY Cargo.
Here are the top 5 benefits of our services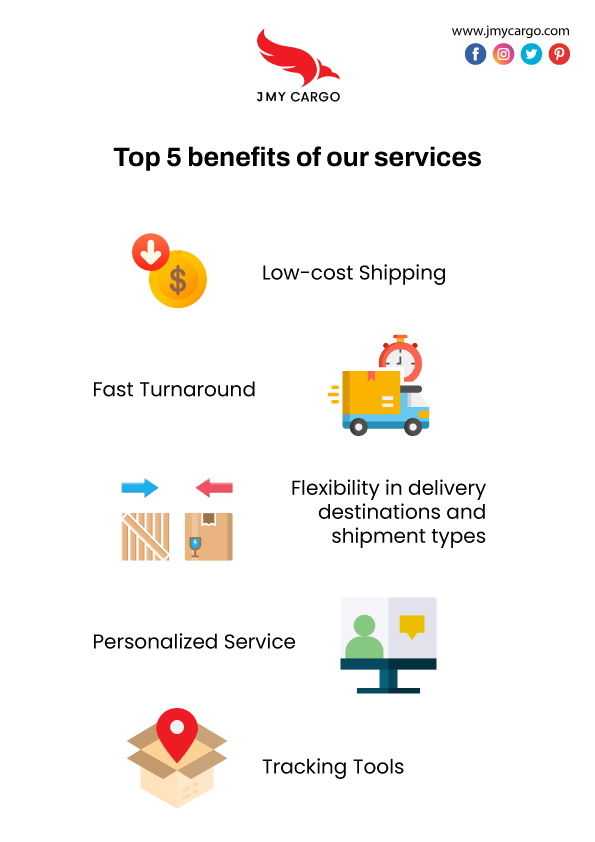 With JMY Cargo, you can expect five main advantages: low-cost shipping, fast turnaround, flexibility in delivery destinations and shipment types, personalized service, and tracking tools so that you always have visibility into each of your shipments. Our comprehensive services ensure that you achieve a hassle-free experience when it comes to international freight shipping.
Cost Savings and Optimized Shipping Solutions
At JMY Cargo, we're committed to helping you find optimal and cost-effective solutions for your international freight shipping needs. We provide flexible service options, allowing you to tailor your shipments to best meet your budget and needs. And our tracking tools offer complete visibility during each step of the shipment process so that you can have peace of mind knowing when, where, and how your cargo is arriving safely at its destination.
Timely Delivery and Tracking Options
JMY Cargo will ensure that your packages arrive in a timely. We can be your trusted logistics partners all over the world, ensuring speedy and reliable delivery of shipments no matter where your goods destination is. And our tracking services allow you to keep an eye on your cargo at all times, giving you peace of mind while your shipment is en route. With JMY Cargo's international freight shipping options, you can rest assured that the process is hassle-free!
Full-service Logistical Support for Large Projects
JMY Cargo specializes in providing its customers with the full suite of logistical support for larger projects. We provide customized solutions tailored to your needs, including pick-up and delivery scheduling, tracking services, custom clearance solutions, insurance coverage, transport optimization, and much more! We understand that international freight shipping is complex and can be a challenge to manage – but at JMY Cargo we make it easy for you!