If you're looking to expand your business internationally, the key to success is utilizing flexible international shipping solutions. From customizing shipping methods and timelines to finding the best rates, having a framework in place that meets your customers' needs can help create a seamless customer experience – no matter where in the world they are located.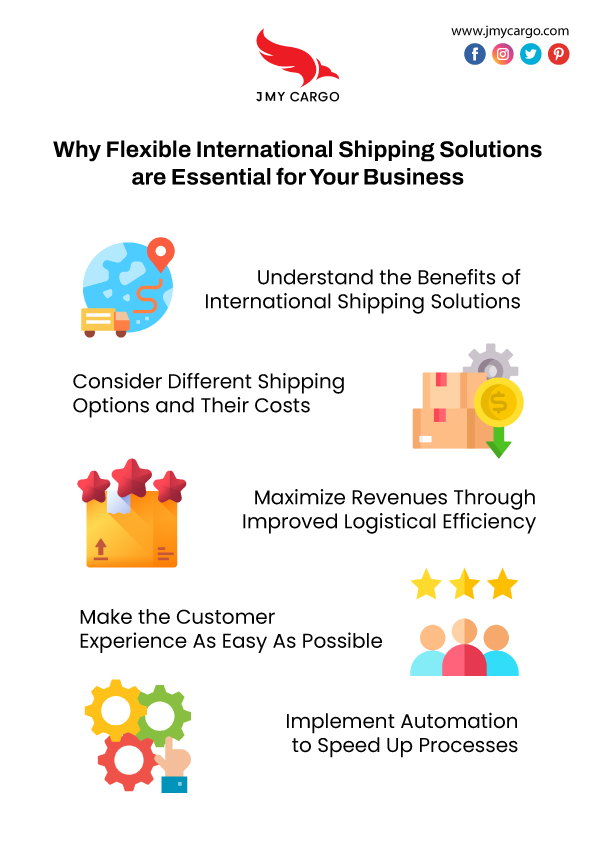 Understand the Benefits of International Shipping Solutions
Whilst it can be difficult to comprehend all the benefits of international shipping solutions for your business, it is important to understand that having one in place offers several advantages. Not only does a flexible shipping solution give you options when it comes to pricing and delivery times, but it also covers any potential customs duties or taxes and can even help streamline the returns process should a package get lost or damaged in transit.
Consider Different Shipping Options and Their Costs
When choosing an international shipping solution, you should consider the different shipping options available and their associated costs. Different countries and regions will have their own laws and regulations, so it is important to ensure that your chosen shipping option complies with all applicable regulations. You should also take into account the delivery time, as well as any customs duties and taxes that may be applied. By considering all these factors when selecting a shipping solution, you can make sure that your customers receive their packages on time and in perfect condition.
Maximize Revenues Through Improved Logistical Efficiency
Flexible international shipping solutions can improve your logistics efficiency and maximize revenues. By providing customers with fast and reliable deliveries, you will increase customer loyalty and satisfaction. Faster international delivery times also result in fewer returns, which could cause further losses if the goods become damaged or lost during transit. By optimizing your international shipping process, you will be able to reduce costs and ship products more reliably to customers around the world.
Make the Customer Experience As Easy As Possible
Customers expect their goods to arrive quickly, and if they don't receive these goods promptly then it can negatively affect their overall experience. Finding an international shipping provider that can offer fast delivery times is essential in meeting customer needs. You should also research flexible shipping options such as express delivery or priority deliveries, as they are often more reliable and cost-effective than standard shipments. Finally, look for international carriers that offer customs clearance services to make the process easier for your customers.
Implement Automation to Speed Up Processes
Utilizing automation can be a great way to increase the efficiency and accuracy of your international shipping operations. Automated systems can provide better visibility into shipments, reducing the risk of errors, minimizing delays, and ensuring that customers are provided with accurate information about their deliveries. Automation can also streamline processes such as label printing, packing slips, customs declarations, and more. By implementing automated solutions for these tasks, businesses can drastically reduce time spent on manual labor and improve customer satisfaction.